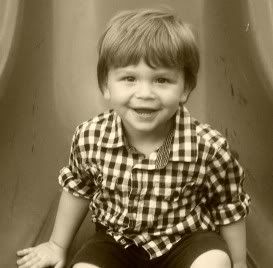 On Monday, March 19th I will have been a parent for three years (a bit longer if you count the nine months he was in my womb!) However, in the general scheme of things it's really just a blink, in what I hope will be oh say… another 80 years of being his Mom. I have to say however that he's taught me allot. Probably allot more than I've taught him.
Here's what I've learned from being blessed to be Michael's Mommy.
1. I'm stronger than I ever thought I was. (A lesson I learned at his birth.)
2. My life is completely dedicated to my family.
3. Being a "Mom" has been pretty hard at times.
4. Being a mother to my son, is my greatest joy.
5. I love him more than I ever thought I could.
6. I'm scared that when my other children come, I might not love them as I love him. (I'm told this is a common fear that will completely dissapear once the time comes that I'm a mother to more than one child.)
7. I'm a pretty awesome "Mom" if I do say so myself. (I learned this lesson, once I realized that I didn't have to be a perfect mother to be darn good at it!)
8. I've learned from Michael to just sit back, forget about the dishes and watch the clouds go by, while laying on the grass on a sunny day.
9. I've learned that when he's quiet he's usually either reading a book, sleeping, or up to no good!
10.I've learned that being a Mom completely changed the dynamics between my husband and me for the better. (Even though we don't get to cuddle too much anymore 'cause Michael's in the middle, we're usually cuddling him.)
11. I've learned to listen to parenting advice from Mother's who've "been there and done that" and then either decide to take the advice or do what my gut tells me I should. And not think that just because more experienced Mom's are telling me what I should do makes what I'm doing wrong.
12.I've learned to give up going to the movies for the time being.
13.I've learned that getting a 35 pound 2 1/2 year old into a car seat isn't always easy, or fast, and it's usually when I'm in a hurry that I encounter this problem.
14.I've learned to plan for these kinds of "problems".
15.I've learned that crayola bath crayons can be pretty hard to get off the tub walls.
16.Getting dirty while finger painting is allot of fun!
17.Counting caterpillars on a sunflower isn't a boring as one might think.
18.A spontaneous hug from Michael makes my day for a week!
19.That boy is strong! Try picking him up when he's having a tantrum, near impossible.
20. I was born to be his mother.
21.He really does pay attention to what I say and do.
22. I can read "The Cat in the Hat" 10 times in one day with the same gusto as the first time!
23. I can jump over "snakes", and hide under mountains and have allot of fun doing it.
24. I can have the fear of God put in me, by a simple fall, and the feeling of a thousands bricks lifted off my shoulders with a "thumbs up" and a I'm OK Mommy" from my son.
25. If I pay attention, and look real close, every day isn't like that last when you're a Mom.
I really could go on and on; however, my legs just got splashed, as I sit here on my bathroom floor. That's my cue that it's definitely time to get my little "artist" out of the bath before I have a lake on my floor!
Like I said earlier, it's all been just a blink. And as I look forward to the next 3, 6, and twenty years I look with a heart that's filled with anticipation and a bit of dread. Because I know that one day he might not want to cuddle on the couch, or kiss me one hundred times. So I'll have to be content with the joy he's brought to my life. All in all though, I'd have to say I'm one lucky Mommy!
Taken from my Myspace blog. Originally written on Friday, March 16, 2007
Save
0