I love to sit and talk shop with other writers, which is why I'm so happy to share a recent opportunity I had to interview debut author Carlyle Labuschagne about her novel, The Broken Destiny, which will be released later this year.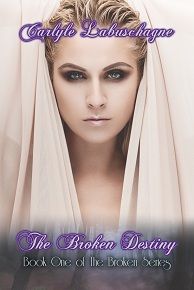 Judging from your website and book trailer, music feels like it is an integral part of your writing. Do you listen to music while writing? Did any song(s) help inspire Broken Destiny?
Music keeps me alive, like the blood in my veins; I would surely die without it. I listen to music every minute I am awake. Pity my singing ability is zero (LOL)
Music that I meditated on while writing The Broken Destiny – Bands , Muse , 30 Seconds to Mars, Paramore, Silversun Pickups, The Bravery, Civil Twilight, Sia and Linkin Park.
The songs that stand out for me – Muse with butterflies and hurricanes
Thirty seconds to Mars – R-evolve, Hurricane and Beautiful lie.
Sia with Breath me.
Paramore with We are Broken, and Paramore with When it Rains
Civil Twilight – Letters From the sky
What an awesome list! We've got very similar taste in music, I love all those bands!
What is The Broken Destiny about?
Overcoming your fears, obstacles, believing in one's self.  Loving one's self .  The Broken Destiny is about a girl who has to find her true self to unleash her destiny towards greatness. Every person has good and bad, and everything comes down to a choice, and sometimes making the wrong choice is actually the write choice at the time. To grow, to learn to love yourself. The only person who can hurt you is you. You are your worst enemy. Don't change who you are for the sake of satisfying others, in the end it hurts only you. Your path is one of greatness and being true to yourself is the greatest gift you can give yourself and others. But it is often only through experiencing who you are not, to know who you are. To know the light you have to have experienced the dark. But always remember everything you go through, no matter how hard –  is for a reason.
Where and when does Broken Destiny take place?
The Broken Destiny takes place 300 years after World War Three has destroyed earth – The Broken reside on Planet Poseidon, the purple planet.
What character surprised you the most while writing?
Oh gosh, Ava, Enoch, Troy, Sam the most, but really all the characters do at some point, while writing book two – I wanted to kill half of them off for making me so mad .
Authors always know little secrets about their characters that the reader, may not know…could you share a little secret about one of your characters?
Deep down Sam is a softy, no matter how hardcore she seems – she has a heart.
How many books will there be in this series?
I am aiming at four.
Where did you grow up?
Around all parts of Johannesburg, South Africa.
If you could spend the day with anyone in the world living or dead, whom would you choose?
My husband , I'd spend the entire day with my husband – outdoors.
Who or what inspires you?
There are many people I look up to, My Mom and Dad have worked themselves from nothing – giving their kids the best lives they could.
For Writing I draw inspiration from music, people and the environment.
The world has many gifted people who do amazing things weather big or small it is their actions that inspire.
What are your three most favorite books?
At the moment…
Divergent by Veronica Roth
Clockwork Prince by Cassandra Clare
Fire by Kristin Cashore
Do you like to snack on anything in particular when writing?
Coffee and vitamin water.
Did you learn anything about yourself while writing this novel?
Most definitely, I surprised myself by overcoming many obstacles, the language barrier, my grammar was terrible (I am Afrikaans). Spelling.  I guess for the first time I found out what I was made of, how far I can push myself. And deep down I learnt who I was – I learnt to like myself and grew more confident in my abilities , now I believe that whatever my dreams I can achieve them.

Don't be crippled by fear. Let love and passion give you wings ~ Carlyle Labuschagne

The Broken Destiny will be released later this year. Follow Carlyle on Twitter , Goodreads and Facebook for updates.
Thank you so very much Nicole for this opportunity to tell readers about my book, my life . I wish you great success on your journey, as you have been part of mine – you have a place in my heart – forever. ~Carlyle Labuschagne
0